Key takeaways
Start with a clear idea about the type of retirement lifestyle you're after
Retirement calculators can tell you how much capital you need to support the lifestyle you want
A financial adviser can guide you in implementing strategies to save more and avoid running out of money.
You've spent decades working, so you don't want to spend your retirement years scrimping for cash.
How can you make sure that doesn't happen?
There's a whole host of factors that will determine your lifestyle in retirement – savings, tax, investment strategy and more.
It can be complex – but it doesn't have to be. There are tools and strategies that can help you enjoy your retirement if you start preparing for it now.

Start with a clear goal
The starting point is having a clear idea of the type of retirement lifestyle you're after. This may be hard to know if you've still got a while to go before retiring, but the sooner you start thinking about it, the sooner you can implement a plan to turn your retirement dreams into a reality.
Some of the things you might consider are:
How often you would like to travel and the types of holidays
Whether a sea change or tree change is part of your plan
Downsizing – or upsizing. What are your accommodation plans in the future?
The types and frequency of any recreational activities
Do you intend on providing financial assistance to your family?
What options would you like to have in relation to help and support either at home, or perhaps in a retirement village or aged care facility?
Once you've decided on your retirement lifestyle, you can work through the likely cost of your expenses, where your retirement income will come from, and finally – "how much do I need to live the life I want in retirement?"
Seek help from a professional

If you value the experience of experts in other aspects of your life, don't discount it when it comes to managing your life savings.
A financial adviser is not just someone who helps with investments. Their job is to help you with every aspect of your financial life—savings, insurance, tax, debt—while keeping you on track to achieve your goals.
More importantly, they can answer questions like:
What age can I stop working and retire?
What strategies can I use to build my wealth?
How can I ensure my wealth is transferred to my children?
If your to-do list is endless and you never quite have time to tackle your personal finances, a financial adviser may help to set you on the right track.
Start the conversation to see how a financial adviser can help you
The Association of Superannuation Funds of Australia's guide
The Association of Superannuation Funds of Australia (ASFA) gives us a general guide. According to their research1, updated quarterly, this is what you need to live at two different levels in retirement:

The figures in each case assume that the retiree(s) own their own home and relate to expenditure by the household. This can be greater than household income after income tax where there is a drawdown on capital over the period of retirement.

A modest retirement lifestyle would be one that's slightly better than you'd enjoy on the Age Pension.
A comfortable retirement lifestyle includes a better standard of living (including better consumer goods) and more recreational activities.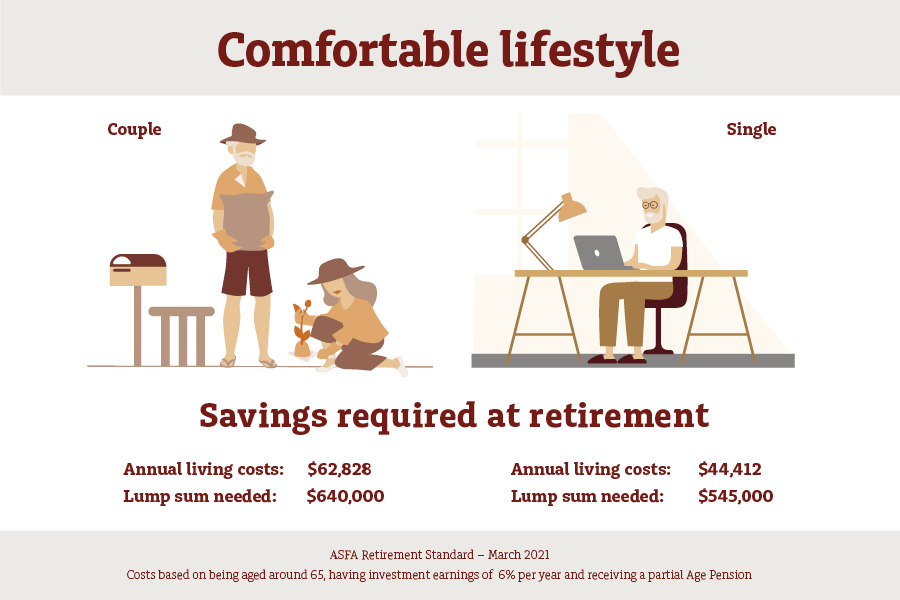 Calculating how much you'll need to support this lifestyle

ASFA's figures give us a good starting point, a sense of what the average retirement might look like and what it would cost.
But what's more important, is how much capital you need to support the lifestyle you want – and how you can go about accumulating that capital.
A retirement calculator can help you answer all these questions because it covers a whole range of factors.
Your current and potential super savings. It takes into account how much you've currently saved and your future saving based on income and your ability to save extra money into super.
Your investment choices. Increasing the return on your super savings can make a big difference to the amount of capital you retire with and your retirement lifestyle when you get there.
Your family situation. A retirement calculator allows you to build your spouse's income, contributions and final super balance into the calculation.
Social Security and part-time work are two crucial ways in which many people at least partially fund their retirement. The forecaster helps estimate the effect any Age Pension you are eligible for (and any work you do) has on your retirement income.

How to avoid running out

In short, using a retirement calculator gives you an in-depth view of how much you can save for retirement and what that turns into as a regular income.
Speaking with a financial adviser can also help you integrate other factors, such as changes that might make the most difference whether that's your investment approach, contributions strategy, pension eligibility or contribution from your spouse.
From this knowledge comes the power to create a personalised super strategy. One that gets you to the retirement lifestyle you've dreamed of and helps to make sure you don't run out of money.

Further reading
1 ASFA Retirement Standard – March 2021 https://www.superannuation.asn.au/resources/retirement-standard

Important information and disclaimer

This article has been prepared by NULIS Nominees (Australia) Limited ABN 80 008 515 633 AFSL 236465 (NULIS) as trustee of the MLC Super Fund ABN 70 732 426 024. NULIS is part of is part of the group of companies comprising IOOF Holdings Ltd ABN 49 100 103 722 and its related bodies corporate ('IOOF Group'). The information in this article is current as at July 2021 and may be subject to change. This information may constitute general advice. The information in this article is factual in nature and does not take into account personal objectives, financial situation or needs. You should consider obtaining independent advice before making any financial decisions based on this information. You should not rely on this article to determine your personal tax obligations. Please consult a registered tax agent for this purpose. Opinions constitute our judgement at the time of issue. In some cases information has been provided to us by third parties and while that information is believed to be accurate and reliable, its accuracy is not guaranteed in any way. Subject to terms implied by law and which cannot be excluded, neither NULIS nor any member of the IOOF Group accept responsibility for any loss or liability incurred by you in respect of any error, omission or misrepresentation in the information in this communication. Past performance is not a reliable indicator of future performance. The value of an investment may rise or fall with the changes in the market.